From: Missoula, MT, USA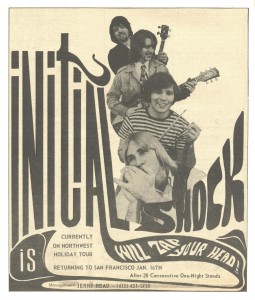 Originally formed in 1966 as The Chosen Few, The Initial Shock was a psychedelic rock band from Missoula, Montana.  Composed of members from Missoula bands Mojo's Mark IV and The Vulcans, the band changed its name to The Initial Shock in 1967, moving to San Francisco that same year.
Often billed as simply "Initial Shock", the band only produced two records during their incredible time together as a band. "Mind Disaster" b/w "It's Not Easy" and "You've Been a Long time Coming" backed with "I Once Asked". Both were regional hits in the western USA and also in the Top 10 Southern Survey where the lead singer, Mojo Collins was, and still is from. Members of the band included Mojo Collins, (guitar, lead vocals), Brian Knaff, (drums, vocals),George F. Wallace, (lead guitar), Steve Garr, (bass) and George A. Crowe (road manager).
The band played with almost every major group during their rise to the top in the bay area, including Steppenwolf, Sopwith Camel, Fruminous Bandersnatch, Kaleidoscope, Crystal Syphon, Ace of Cups, Indian Headband, et al.  One concert poster featured Initial Shock as the headline group with Clover (Huey Lewis) as the second billed band and the Doobie Brothers as the opening act. The Initial Shock opened for Pink Floyd on their first American tour. The Initial Shock were on many of the 1960's posters of concerts at the Avalon, Winterland, and The Fillmore West including one of the famous Grateful Dead poster with the huge eyeball at the Avalon Ballroom.
The band never signed to a major recording contract and broke up in 1969 due to drugs and personal problems. Initial shock was a great band, had a huge following, and was a seminal musical addition to the psychedelic scene happening in SF. George Wallace, also known as George Firestone, was recognized as one of the finest guitarists and songwriters of his day. When he wasn't performing with I.S., he often toured with Janis Joplin. After Initial Shock broke up, George Wallace and George Crowe founded Yellowstone Band with drummer Brian Knaff while Mojo Collins went on to found Sawbuck with Ronnie Montrose and Chuck Ruff. Steve Garr bought the Top Hat bar in Missoula, MT and owned and operated the place until his passing in 2008. Knaff went on to create Talent Booking Network and is a major concert promoter to this day. Mojo Collins still plays the blues and is a North Carolina institution who plays all over the South. Crowe and Wallace went on to play in the Invaders which led up to the Sonics album with original lead singer Jerry Roslie. Wallace passed away in 2006 and George Crowe is still playing and getting ready to release his new CD with Northwest guitar player Marty Shalk in the fall of 2010.
Feel free to use our Facebook page to discuss & ask any questions you have about this artist, a fellow PsycheHead is sure to have the answer.
Tracks played on Psychedelicized…
You've Been A Long Time Comin'